It's finally fall in Europe, UK & America.  Winter is just around the corner too.  Wrap yourself with some of the best coats for European Winter and Fall.  These coats are super cozy, warm and yet chic, fashionable and luxurious.  Carefully select your favourite outerwear or warm coats ready to shine on your next occasion, everyday outings, everyday fashion, parties, sightseeing, travel and work.  But if you're in need of some new chic, stylish yet comfortable and super warm coats then listed below are fabulous coats to wear in any occasion and any outfit. 
1. Shearling Coats
Shearling Coats are always in fashion.  It never fades away.  It goes well with any outfit you wear underneath and it definitely keeps your warm wherever you go whether it be in a very cold country or just breezy.  This is because Shearling coats are usually made from processed lamb skin or sheep skin, which results in a soft and natural fleece material that is extremely comfortable, lightweight and insulated.  The lining often comes insulated due to the high quality of Shearing process.  However, for those of you who are against animal products there are many faux shearing coats to be found.  Some of which are shown below with the most beautiful and luxurious faux shearling coats suitable for very cold countries and for any outfit.  The faux shearling coats are just as warm as the original shearling coats that are made from lamb or sheep skin.
T Tahari Shearling Faux Coat Made of Shell Face – 100% Polyester, 71% Shell Black and 29% Acrylic. It also features single breasted long sherpa coat along with beautiful and warm faux fur lining and three button front closure. This coat is perfect for formal events, everyday fashion, sightseeing, parties and work.  Find out here for a variety of style and sizes to choose from with the best price and free shipping.
This beautiful and luxurious Camel T Tahari Faux-Fur Coat is made of Shell 100% Polyester, Faux-fur content 100% Acrylic with multiple front compartment pockets with zippered and snap flat.  This coat also features faux shearling lined cuffs and funnel collar for extra comfort and warmth.  
2. Pastel Coats
Sometimes it's nice to be different in fall and winter seasons.  Break and forget the typical black, grey or nude coats this fall and winter seasons.  Why not try these eye catching soft pastel coats to add some light in your wardrobe?  I love soft pastel colours in clothes.  Most pastel colours are worn in spring and summer seasons, fortunately you can easily find some of the best pastel coats in different length and style whether it be faux far, trench, wool or wrap coats.  I think that wearing pastel coats can brighten up the whole outfit and entire look especially when the weather is so dull and grey in fall and winter.  I personally love wearing pastel colours throughout the year.  And pastel coats are definitely trendy and can easily be paired with any existing outfit.  In Europe, UK and America the weather varies in different cities but you'll find that in most cities are very cold, dull and grey so adding a touch of soft outerwear colours will definitely brighten up your face and look.  These pastel coats are available in various colours, shape, sizes, length and prices to choose from with free shipping.  No doubt you won't find it hard matching it with your favourite sweater, pants and boots.  These pastel coats are also very warm and it's a perfect item to carry, pack and wear for your next holiday or for your everyday outfit.
3. Wrap Coats
Wrap yourself in your favourite chic, fashionable, luxurious and warm belted wrap coats this fall and winter.  I am in love with wrap coats.  Wrap coats are my go to coats for fall and winter, as they can be worn easily without having to button up while rushing to get out of the house.  They keep you warm just as much as the other types of coats.  Not only they are super comfortable, cozy and warm but they are also wearable in any occasion and with different outfits.  If you're looking for coats that can easily be paired with different types of dress, leggings, heels and boots while looking chic and elegant then I highly suggest purchasing a nude or beige belted wrap coat in any length.  
One of my favourite Tarahi wrap coats made from polyester, wool and viscoe.  The wool is blended with wrap coat, which features self-belt and an additional oversize shawl collar.  Find out here for more information and different sizes to choose along with the best price and free shipping.
This beautiful long length belted wrap coat is made in United Kingdom of 80% wool and 20% nylon, which surely will keep you warm throughout the day.  This is quite a long wool blended coat though (it depends in your height).  It also features thick shawl collar, self belt and side hand pockets to keep your hands warm while walking on the street.  This coat is available in a variety of sizes and colours to choose from with the best price and free shipping.
Another gorgeous Tahari wrap coat in black colour made of polyester, rayon and spandex is a must have for your everyday fashion.  It features long sleeve with notched collar and hidden front pockets to store small items or to keep your hands warm.  It also has a self-tie belt closure, which sits around the waist area and the coat is about 35 inch in length, which is definitely a perfect length for everyone in different height.  Find out here for more colours and sizes to choose from with the best price and free shipping.
4. Cocoon Coats
Cocoon coats are known for its classy, chic and elegant.  They come in a variety of colours, texture, length and sizes to choose from.  Feel like walking in the runway with your heels on and stylish outfit?  Why not get yourself a pair of cocoon coat this autumn and winter.
Andrew Marc's cocoon coat offers beautiful, cozy and fuzzy wool-blend texture that also features asymmetric front zipper and zipper cuffs..  It also has two hand front pockets that allows you to store small items and even keep your hands warm while out and about.  It's made of 52% wool, 38% fibers and 10% nylon. Find out here for more options to choose from with the best price and free shipping.
This beautiful pale cocoon coat by Vince Camuto is very appealing.  Although, most cocoon coats are not fitted, as they are well known for loose and oversized but the quality is great.  It is super chic and stylish.  The material is also very cozy.  This type of coat features funnel-collar, full zip closure with stylish snap faux flaps over each front pocket.  It's made of 55% polyester, 41% wool, 4% other fiber and 100% polyester lining. Find out here for more information, different colours and size to choose with the best price and free shipping.
Theory Nyma K Cocoon coat is one of the most appealing, beautiful and chic warm coats perfect for this fall and winter.  This is perfect for everyday fashion, as you can easily dress it up or down depending on your internal outfit.  It features front contrasting lapels with a single button closure at the top.  The good thing is that it also has offers two front hand pockets and for storing small items, while on the go.  This coat should only be dry cleaned, as it's made of 57% merino wool, 25% hair, 17% polyamide and 1% elastine. See more options to choose from here with the best price and free shipping.
5. Raincoats
You can never predict the weather in Europe, UK, USA, NZ and Australia when it comes to fall and winter as you'll find that the rain comes when you least expect it.  Therefore, it's best to carry a pair of raincoat everywhere you go.  Some of these raincoats are super practical yet chic and stylish.
Practical raincoat by Marc New York is perfect for everyday wear, as it's so easy to carry or pack wherever you go.  It's easily foldable and that allows you to wear when it's needed.  It has coated jacket that also features drawstring waistband so you can easily tightened it according to your waistline.  It also features zip and snap placket, faux fur piecing at the collar and of course the most important part is the removable hood.  It's perfect that it has removable hood but no doubt you won't be needing this as when it rains you don't definitely want to get wet wherever you go.  It's completely made of 55% linen and 45% cotton.  The only disadvantage to this coat is that if you're quite petite this might be a bit too big for your size and therefore choose the right size carefully. Find out here for more sizes to choose from with the best price and free shipping.
This beautiful double breasted coat by Jessica Simpson is so practical, simple yet chic and stylish.  It's a peacoat double breasted style with standing collar also featuring removable hood (important for rainy days) and jetted side style pockets for your hands and storing small things.  It also features butoon closure and this only be dry cleaned, as it's made of 52% cotton and 48% polyester.  The only disadvantage is that it seems a bit larger than the normal size, however if you prefer that extra room around the arm areas and waistline then this would be perfect. Find out here for the right colour and size to choose from with the best price and free shipping.
More Coats To Choose From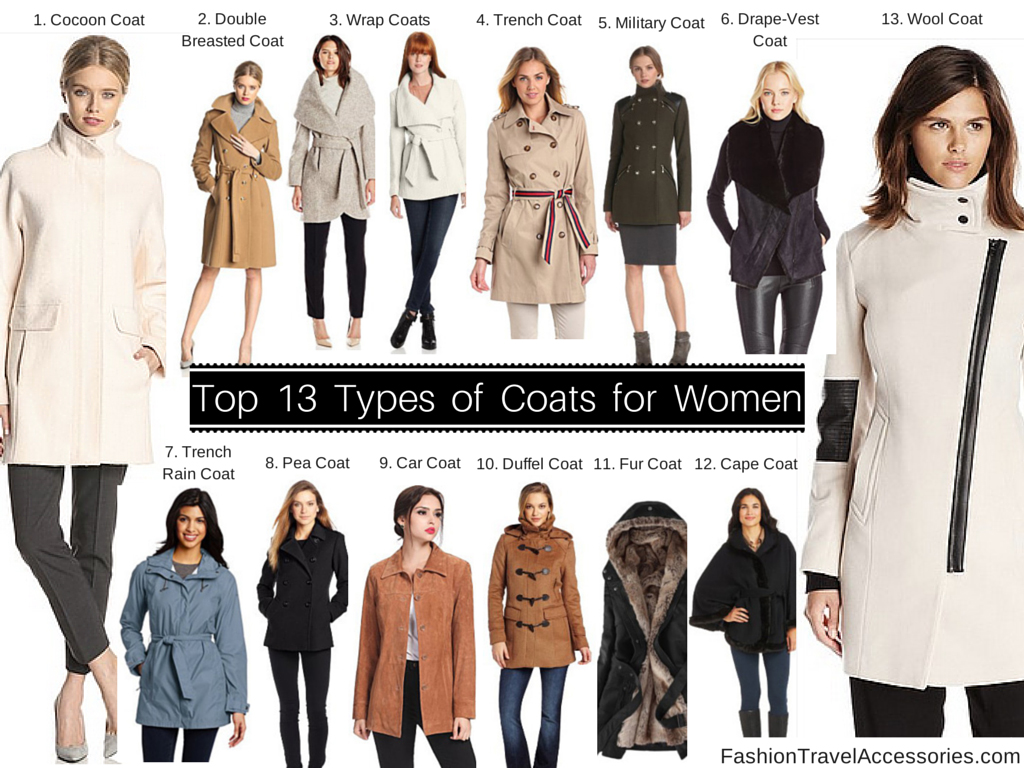 Over to you, which ones are your favourite coats to wear in fall and winter?  
Amazon Associate Disclosure: FashionTravelAccessories.com is a participant in the Amazon Services LLC Associates Program, an affiliate advertising program designed to provide a means for sites to earn advertising fees by advertising and linking FashionTravelAccessories.com to Amazon properties including, but not limited to, amazon.com, endless.com, myhabit.com, smallparts.com, or amazonwireless.com.