London! After years of anticipating going to the UK, I finally was making my way into London Town.
Due to my travel habits and making friends whilst on the road, I wasn't staying in any hotel or hostel, I was staying in a proper flat in a quiet neighborhood off one of the major metro lines. My friend had a job working at The Financial Times, so whereas a tourist you can come and go from your hotel at your leisure, I was up to my own devices to stay out and about for my friend's entire work day.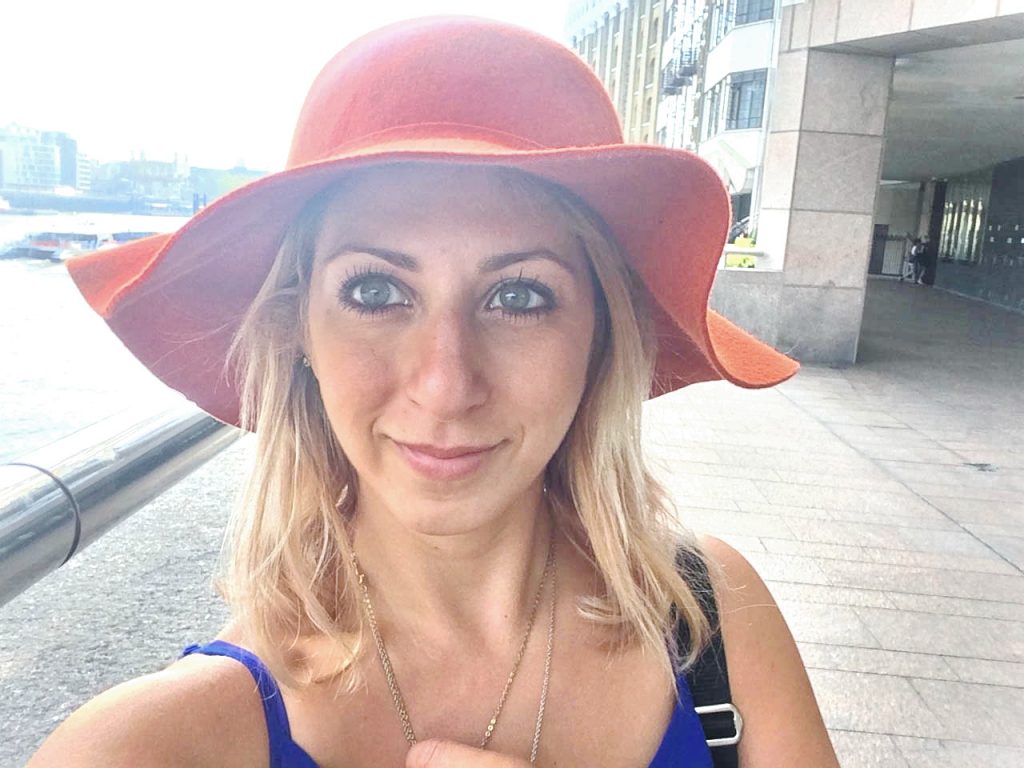 It being early May in England, I planned on London being a gray, rainy city so I packed both ankle boots and trainers, and two coats, one furry and one waterproof. It is my belief that any fur coat, whether faux or real jazzes up any outfit. Luckily, the weather, while sometimes on the chilly side, stayed sunny for all three days I spent in London so I was able to walk around everywhere, and not have to find shops or cafes to get out of the rain. This also took away the burden of having to take cabs.
This was something that I have spent years trying to figure out. I look at old photos of myself when I traveled in my early 20's and I made the mistake of wearing items that I probably wouldn't wear while I was at home. For going to cities like London, Paris or New York, it's cliche but tried and true: black works with everything! I packed a number of black shirts which I was able to dress up or dress down with different accessories or shoes. That's not saying to only pack black, but it is very helpful. I also found that a smart looking hat goes a long way. The benefits of a hat: covers up messy hair, dresses up a more casual look, is perfect for weather that tends to fluctuate and allows for less torso layering.
Different sized necklaces.  Either gold, silver, or rose, having a variety of short and long chains is such a saver. Rather than packing a million different tops, one piece or a mixture of dangling pieces helps tie an outfit together. If you happen to being wearing a jacket or jumper with buttons or zippers, coordinating your jewelry with these little accent pieces gives you a more polished and eclectic style for the day.
While going to the usual historical places of interest i.e. Westminster Abbey, Buckingham Palace, The National Portrait Gallery, I found that my favorite activities were simply walking around the parks and the surrounding neighborhoods.

1. Camden/Regent's Park
Located partly between the Borough of Camden and the City of Westminster, Regent's Park (and my favorite park) is a short walking distance from shopping, people watching, and amazing architecture. The park itself spans over 400 acres so there is lot of space to walk around. The highlight, for me, was the Queen Mary's Garden's. Being a New Yorker, you can't help but compare the two major metropolises, and London definitely beats NYC in the flora and fauna department. The arrangement of flowers, the precisely trimmed brush, the fountains, all create a feast for the senses in how much detail go into each element.
To the east of the park, along the street Outer Circle, are Chester Terrace, Cumberland Terrace, and Gloucester Terrace, all designed in Neoclassical architecture. The all-white facades paired with the decorative arches and Ionic columns make you feel like you have stepped into a the past.
Camden Town
I wish I brought an empty suitcase and did all my shopping here and Portobello Road (more on that later.) Besides the town itself having great cafes and little boutiques, the outdoor market has EVERYTHING you could possibly want to add to your wardrobe or to create a whole new one.
Leather goods, silver, wooden rings, moroccan rugs, lanterns, bags, local artisan shirts, second hand jackets, quirky hats, combat boots, and trinkets small to gargantuan are all situated neatly next to one another at both an indoor and outdoor space. If you're overwhelmed by the vast amount of articles for purchase, then prepare yourself to be bombarded with vendors selling you an array of international food as well. (I have a few photos of this on my Instagram feed but can supply you with more images at your request.)
2. Westminster, Belgravia, Hyde Park, St. James, Soho
In these neighboring areas there are three huge parks (St. James, Green, Hyde) and three small ones (Belgrave, Grosvenor, Berkeley). Being extremely jetlagged and worn out from my previous day's 8+ hours of walking/sightseeing, I had to rest A LOT. Luckily St. James, Green, and Hyde park were all perfect places to see some wonderful English monuments, and take little cat naps without feeling like I was homeless.
With so many museums, monuments, and historical buildings located in such a small surrounding area, if you were only in London for one day, you could check off so many must-see places.
Starting off at 10 Downing St., you can walk the streets of the old City of Westminster (the Abbey is pretty central), then head over to Buckingham palace. If Hyde Park is coming up on your list of places to visit, you can head there in two directions. First by going around St. James Park and following Piccadilly whilst passing shops and hotels, or by going through Green Park and stopping by all the WWII memorials.
Either way you will end up at an intersection that will get you into the famous Hyde Park. I rested here for a while there before heading into the Mayfair and Soho districts where I met up with some friends and did some shopping along the way.
3. Notting Hill and Portobello Road
The 1999 rom-com starring the forever stammering English gentleman, Hugh Grant, and America's grinning favorite leading lady, Julia Roberts, does not do this neighborhood justice. In fact the only references I have ever known about this area was from this movie (which didn't pique my curiousities) and from the song Portobello Road, one of the main numbers from the lesser known Disney feature, Bedknobs and Broomsticks.
Taking the tube to zone 2 off the Circle or Hammersmith and City metro lines, Portobello Road is a short walking distance from the metro station. Like the song states: "Anything and everything a chap can unload is sold off the barrow in Portobello Road."
Scarves, polished jackets, tea sets, real and fake crystal drawer handles, used books, perfume bottles, handmade jewelry are amongst the thousands of items you can find and bargain for walking up and down the street. Once I was finished picking up some items for myself, I walked into Notting Hill to see what all the fuss was about.
The Victorian house facades were painted in lovely pastels and the springtime tree blossoms only added to the understated elegance. Again, I couldn't help but make the comparison to NYC dwellings, whose architectural style was expounded upon once the English settled the area, but I felt like all the houses here had more details . But I'm biased and have a passion for all things old and historical, which was why walking around Notting Hill was so fantastic.
4. Stoke Newington
If you're looking for an area that is less busy, more "neighborhoody" and a bit like Brooklyn, head north of the city center via a double-decker bus (which I loved taking!) to Stoke Newington. While at first, the buildings can give off a run-down kind of vibe, once you start walking around, you find the area to be quite charming and diverse. The residents seem to be a mix of Asian, Jewish, Eastern European, Caribbean, and young professionals who don't want (or cant) pay the astronomical prices of central London housing.
There you will find small restaurants, cafes, over and moderately-priced boutiques, vintage clothing stores, music shops, and trade/craft businesses. I met up with some friends who took me to an amazing spot called The Good Egg located at 93 Stoke Newington Church St, London N16 0AS. Also, a small boutique called Ivory was where I purchased one of the best pair of sandals I have ever owned. Yokono is the brand and fit perfectly to my foot. I wore them for 6 hours straight and my feet didn't hurt at all. I put a few band-aids around my ankle where the strap rubbed, but after a week of breaking them in, I no longer need them. They are so chic and can be paired with anything casual or dressy.
Written by: Alex Quint (Contributor)
Alex (AQ) Quint is a solo female adventurist who currently resides in the Caribbean as a scuba diving instructor.  When she isn't exploring life under the sea, she's probably in Brooklyn writing about her travels, eating paninis, or finding ways to plan a trip to a new country.  You can follow her adventures at http://www.aqinternationally.com.
Amazon Associates Disclosure: FashionTravelAccessories.com is a participant in the Amazon Services LLC Associates Program, an affiliate advertising program designed to provide a means for sites to earn advertising fees by advertising and linking FashionTravelAccessories.com to Amazon properties including, but not limited to, Amazon, endless.com, myhabit, smallparts.com, or amazonwireless.com.
Amazon Associate Disclosure: FashionTravelAccessories.com is a participant in the Amazon Services LLC Associates Program, an affiliate advertising program designed to provide a means for sites to earn advertising fees by advertising and linking FashionTravelAccessories.com to Amazon properties including, but not limited to, amazon.com, endless.com, myhabit.com, smallparts.com, or amazonwireless.com.